Black Halloween Candlesticks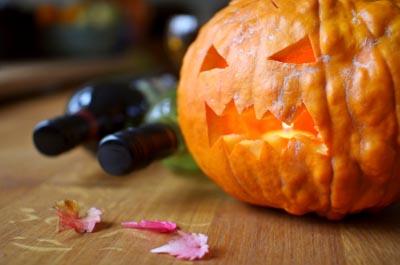 If you're getting ready to entertain trick-or-treaters in your home, black Halloween candlesticks are a great way to set the mood for a memorable party.
Setting a Festive Mood
Why use candles to decorate for Halloween? If you've ever set a lit candle inside a carved jack-o-lantern, you know that candles are a natural choice for Halloween decorations. Black Halloween candlesticks make for a great party decoration, as long as they are kept safely out of reach of curious children.
Although it's possible to purchase black candlesticks from various stores during the fall season, it's not difficult at all to make your own. When you make your own candlesticks, you'll save money and get the satisfaction that comes from knowing your holiday decorations are truly one-of-a-kind.
Making Black Halloween Candlesticks
It's easy to make a pair of Halloween candlesticks using materials you probably already have around your home.
Supplies:
Empty wine bottles with openings large enough for taper candles
Black wrapping paper, scrapbook paper, or printed computer clip art with various designs--including text patterns, faux stone textures, and Halloween-themed images
Sandpaper
Decoupage medium
Foam paint brush
Craft wire and assorted silver beads, if desired
Instructions:
Rip and crumple various pieces of black paper. Use sandpaper to distress some of the paper for an aged appearance.
Use the foam paintbrush and decoupage medium to apply paper to the wine bottle.
When dry, add a coat of decoupage medium to seal and protect the candle holder.
For a more festive look, string silver beads onto craft wire and wrap around the wine bottle to add a touch of sparkle.
Insert your taper candle into the top of the bottle and enjoy your new Halloween candlesticks.
More Handmade Candlestick Projects
For more unique candlestick ideas, check out the following projects:
Wire Candlesticks: Wire is a great material for Halloween candlesticks, since it has a gothic feel to it. This project uses dark annealed steel wire and the metal cap from a beer bottle to create a gorgeous candlestick that is sure to impress your party guests.
Apple Candlesticks: If you're not concerned about your candlesticks lasting for weeks at a time, this is a fun project for Halloween. Make a few from apples, and then paint them black with acrylic paint.
Making a Candle Centerpiece
Black Halloween candlesticks can be a great beginning for a Halloween themed centerpiece. Creating a memorable arrangement doesn't have to be difficult and it's a great way to set the mood for a party.Here are some ideas for items to incorporate into your Halloween centerpiece:
Black silk roses
Faux spider webs and plastic spiders
Painted silver skulls
Black crows
Plastic bone decorations covered in a layer of fine glitter
Small pumpkins
For tips on making a candle centerpiece, check out the following helpful articles from LoveToKnow Candles:
Scented vs. Unscented Candles
When choosing candles to use in your black Halloween candlesticks, you may find yourself wondering if it's best to use scented or unscented candles. Scented candles with Halloween fragrances such as pumpkin and apple cider can be a good way to help reinforce the mood of your party. However, you should be conscious of the needs of any guests who may have allergies or fragrance sensitivities. In addition, it's typically recommended that scented candles not be used in areas in which food will be served. The fragrance from the candles can interfere with your enjoyment of the meal.