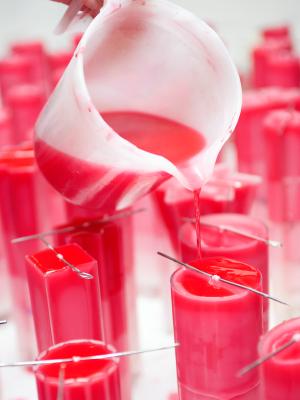 Whether you're new to making candles or you're considering expanding to a new technique, having the right supplies is essential. From wax and wicks to melting supplies and additives, there are lots of tools and ingredients that go into a great batch of candles.
Basic Supplies for Making Your Own Candles
Depending on the type of candle you plan to make and the supplies you may already have on hand, you'll need some or all of the following items.
Candle Wax
The type of candle wax you buy will depend significantly on the project you have in mind. Many people love the natural honey scent of beeswax candles, while others enjoy making soy or paraffin candles. Consider some of these options:
Candle Wicks
The wick portion of your candle is an important element in a successful product. You can make your own candle wicks or purchase them from a number of different retailers. There are lots of excellent options out there, including the following:
Candle Colorants
When you buy candle wax, it usually does not include colorants. Adding dyes or colorants allows you to customize the look of your candle, making it any shade you have in mind. In some cases, you may be able to use natural colorants, but most candle makers use synthetic dyes. There are many options on the market, including the following:
Candle Fragrances
You may also want to give your candle a scent, and there are lots of great options for this. You can buy fragrances for candle making from a number of different Internet retailers, including highly concentrated fragrance oils. Some candle makers also prefer to make soy candles with essential oils, or natural substances that provide a beautiful scent.
Candle Molds
Molds allow you to customize the shape of your candle. You pour hot wax into the mold, where it solidifies and takes on the desired form. You can purchase unique mold shapes like seasonal or holiday motifs, or you can go with standard votive candle molds or molds for taper candles. Choosing the right mold for your project is all about the end shape you desire.
Containers
Depending on the type of candle you plan to make, you may need some type of jar or container. Containers are very common for soy candles, but many different types use this fuss-free method instead of using molds. You can buy glassware and other types of containers in many different shapes and sizes, including these options:
Candle Making Kits
If you don't want to purchase supplies separately, you can always buy your candle making items in kit form. There are a variety of shopping options for candle making kits, whether you make soy candles, traditional paraffin candles, beeswax candles, or another type.
Tools for Making Candles
You'll also need specialized candle making equipment for your project. The equipment needs will vary by the type of candle you make, but most candle makers use pouring pots, scales, and thermometers. You'll also want dedicated pots and stirring utensils.
Ensure Your Candles Turn Out Beautifully
Having the right supplies will make any candle project a success. Examine your candle making instructions or recipe carefully to determine which specific items you'll need. If you have these supplies on hand before you start, you'll avoid frustration and ensure your candles turn out beautifully.