Whether you're setting a holiday table or creating a centerpiece for an event, it helps to know how to make candle rings. These three easy projects give you a chance to get creative with your candle decorations.
Keep reading »
Browse Topics in Decorating With Candles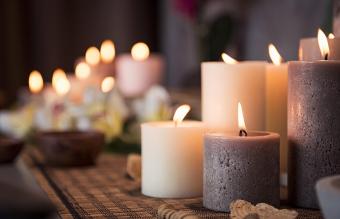 No matter the season, decorating with candles offers a wide variety of options from centerpieces to sideboards to accents in the room. A pair of brown candles can bring out the mantle or orange candles on the table can celebrate fall. Hosting a party? Consider putting out a centerpiece with candle accents that can be given away as party favors at the end of the night.
Create a Candlescape
Got an empty corner of the bathroom that could use some sprucing up? Maybe your living room is looking drab. Candles can bring your room to life. Learn how to create the perfect ambiance in your decor with candles. From creating a floating candle centerpiece to making a candle chandelier, you can learn it all. Bring the romance back into your life through the perfect candlelit dinner. Candles not only add warmth, but they can light up an entire room.
Decorative Candle Styles
Half the battle when decorating your home is choosing which candles to use. You might choose to add a candle chiminea to a corner to give it a rustic feel or maybe a cute scented candle warmer is more your style. Not only will it add a bit of pop to your room but fill it with a beautiful fragrance. Fire not your thing, steer clear through unscented battery-operated candles. They offer all the ambiance without the fire hazard.
Holiday Candle Décor
Running low on ideas for holiday décor? Not to worry, pick up a few candles and you are ready to roll. Candles set the romantic mood for Valentine's Day and they can be added to a swimming pool for a summer 4th of July party, in addition to plenty of other holiday uses.
Christmas Candles
Using candles to spruce up for Christmas are an easy option to give your home that warm, jolly appeal. You might choose to create Christmas floating candles to add to your end table. Become the decorating diva by creating a personalized Christmas candle centerpiece. A few electric Christmas candles in the window add an instant holiday appeal. Christmas and candles just go together.
Halloween Candles
A few fireplace candelabras can definitely add a spooky feel to your home by drawing up images of masks and phantoms. If you're looking for more fun than spooky, try out a few Halloween candle holders. But, if you're trying to make your place a bit more scary for Halloween, black candlestick ideas are a no-fail option to add to your scare factor. Get the drop on the holiday decorating war with cheap and easy candle tricks to add to your fear factor.
Move Candle Decorations Outside
Candle decorations don't end when you walk out the door. They are a great way to spruce up your lawn, outdoor furniture or just to add a unique touch to your backyard décor. Learn how to create a candlelit outdoor table or even use battery operated yard light candles. Speaking of yard lights, a teardrop candle lantern can look great in a garden.
Do-It-Yourself Decorating
Decorating doesn't have to cost you an arm and a leg. With a few simple tricks and the right candles, you can warm up your living room or make your bathroom fun.