Poinsettia Candle Rings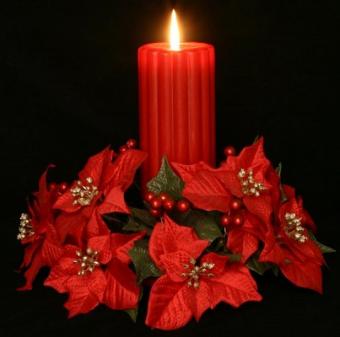 If you want to decorate with candles for the holidays, finding cheap candle rings for Christmas can help you create a unified, elegant look without needing a big budget. While many inexpensive candles rings can be found in discount stores and major retailers, with these simple tips and design ideas you'll be able to make your own cheap candle rings for the holidays for far less.
Poinsettias are a great choice for candle rings, and a few large blooms can easily encircle the largest pillar candle. Use silk blooms with large bracts, or opt for decorator blooms with glitter accents for more flair.
Beads and Berries
Berry candle rings can be found for low prices wherever Christmas decorations are sold. To make your own Christmas berry candle ring, purchase berry sprigs or garlands and shape them to the exact size of your candles. For a more customized look, spray paint the berries in a more unique color, or add crystal or beaded accents as well.
Ribbon Rings
Ribbons can easily become festive candle rings. A ribbon can be tied around a candle, or a long ribbon can be woven around several pillar candles for a more casual but still elegant appearance. Add a few extra accents, such as coordinating ornaments, if you use a plain ribbon, or choose a patterned ribbon to use alone.
Ornament Candle Rings
The sheen of ornament candle rings is popular for holiday decorations. These cheap candle rings can be purchased at most home décor stores, or you can make one by gluing ornaments to a foam wreath. Choose different sizes of ornaments for a full, lush look, and shatterproof ornaments are recommended for durability.
Garland
Holiday garland and tinsel can easily be arranged as a simple but sparkly candle ring. Choose a garland color that coordinates with the candle, and create a small pile for the candle to rest on (being sure that the candle sits firmly on a level surface). Be sure the garland does not come too close to the candle's flame to avoid fire hazards and potential problems.
Dish Rings
Turn a holiday serving dish into a festive candle ring by placing a pillar candle in the center of the dish and filling the remaining space with holly, pine boughs, berries, jingle bells, or small ornaments. Star or tree shaped dishes are especially suitable as these types of decorations.
Decorative Holders
If you don't have the time or craft skill to create cheap candle rings for Christmas, instead opt for classic candle holders such as tinted votive cups. These small accents add instant elegance to candles and do not require candle rings for additional decorations.
Coordinating Ribbon
If you are using ribbon to create a homemade candle ring, choose colors and designs that coordinate with the candles in question. Ribbon with a red and white scrollwork pattern or stripes goes well with a peppermint candy candle. Other popular patterns of holiday ribbon include stars, snowflakes, holiday greetings, candy canes, gingerbread men, and other whimsical options.
No Rings
Candles that are decorated by themselves do not require rings, and in fact, adding a candle ring to an elegant decorative candle can be distracting. Popular decorated candle designs include embossed or carved snowflakes, holiday messages, Christmas trees, or complete carved scenes such as the nativity or Santa and his sleigh.
Metallic Rings
A bit of glittering gold or silver is a popular accent for many inexpensive Christmas candle rings. It is easy to make your own metallic ring by spray painting different items – pine cones, flowers, ornaments, beads, etc. – in metallic hues, either to fully coat the ring or just to add sparkle along the edges.
Go Nuts
Combine the pretty and the practical by using a bowl or basket of holiday nuts to serve as a candle holder or ring. The candles should still be set securely in holders that will be hidden when covered with nuts, and take care that the candles do not burn low enough to prevent guests from munching on the snacks. If you don't care for nuts, use the same design concept to add candles to a bowl of holiday mints or candy.
Artistic Plate
An elegant holiday plate becomes an instant candle ring when used as a platter for a coordinating candle garden. This is a great way to showcase both unique candles and unique dishes in a creative and beautiful way.
Ornamental Holder
Create a crafty candle ring and holder when you hollow out a foam ball (level the bottom so it sits securely on a flat surface) and cover it with tin foil or metallic paint to create a faux ornament. Insert the candle, and stuff small bits of greenery, miniature pine cones, or sprigs of berries into the edge for more flair.
Pine Cones
Pine cones can easily be scattered around candles as a loose ring or can be glued or wired together for a more permanent candle centerpiece. The ring can surround a single pillar candle or can have holders for votive or taper candles. Insert bits of greenery or red holly berries for a splash of color, and consider using cinnamon scented pine cones for an even more noticeable decoration.
Simply Beautiful
Cheap candle rings for Christmas can be simple and elegant. Choose a holiday pillar candle and tie a bit of pine, a pine cone, or a single ornament to it with a coordinating ribbon, and you have an instant decoration that shows your own personal flair.
Looking for more holiday and candle centerpiece ideas? Check out Christmas Centerpiece With Candles for holiday inspiration, or visit the slideshow of Ideas for Candle Centerpieces for more visual project ideas.