Candles for Chocolate Lovers
Brown decorative candles make a lovely household accessory. Brown complements a variety of decorative styles and has a timeless elegance.
Brown candles are popular with chocolate lovers as the rich brown color gives the look of chocolate - without the calories!
Brown Candle Sets
Brown candles can look wonderful when combined with other candles. A group of brown and cream candles can make a stunning decorative centerpiece for a table. This can be enhanced further by a sprinkling of leaves or flowers.
Unusual Candle Shapes
Candles needn't be simple or boring shapes. Very decorative or ornate candles can be both attractive and functional. Unusual shaped candles, such as the one in the photograph, make lovely gifts for a variety of occasions.
Candles with Textured Surfaces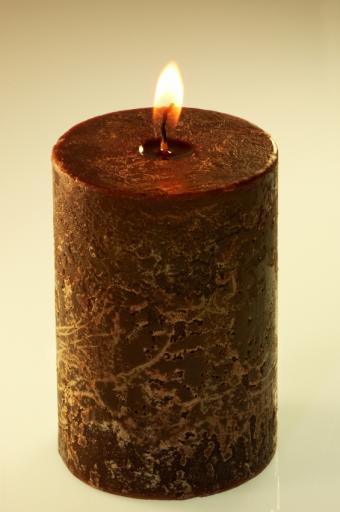 Deep brown candles really accentuate textured surfaces and this can make a very unusual and attractive candle. The surface design is both delicate and striking and is created using special candle making techniques.
Figure Candles
Candles can bring a little humor as well as decorative flair. These three monkeys represent the figures in the traditional saying and are bound to raise a smile.
Decorative Candle Holders
Using candle holders to display candles can really help to accentuate their decorative qualities. This brown and neutral toned candle reflects the ethnic nature of this unusual candle holder.
Spa Candles
A brown candle when combined with other candles gives a real 'spa' feel. Brown decorative candles are often scented with natural fragrances and these can make a wonderfully luxurious addition to bathrooms.
Novelty shaped candles, such as the one in the photograph, make a cute gift or table decoration. Cake or confectionery shaped candles are extremely popular and are bound to be a talking point.
Candles such as this can be
richly scented
to give a fragrance of chocolate. A group of novelty candles could be displayed together as an attractive
candle centerpiece
.
Brown decorative candles come in a surprising number of shapes and styles. They can make an attractive addition to any room or occasion.