Wall mount candle holders can be an elegant yet unobtrusive addition to any home décor. With many styles, sizes, and designs to choose from, it is possible to add candles to any wall in your home easily and beautifully.
Why Walls?
Using wall mounted candle holders or candle holder sconces is a great way to add candles to your home décor without taking up valuable table or shelf space. Small candle holders fit beautifully on narrow walls, and larger designs can be artwork by themselves. Wall mounted candles are also easier to keep out of reach of children and pets, making them a safer alternative for decorating with candles in a busy home.
Features of Wall Mount Candle Holders
Wall mount candle sconces come in a wide range of designs. One holder may have room for just a single candle or several, and different designs can hold different sizes of candles, including tea lights, votive candles, and pillar candles. Popular designs include:
Leaves or vines in symmetrical patterns
Gothic iron patterns
Crystals or mirrors
Scrolls, curves, and geometric patterns
Religious designs such as crosses or angels
Words such as "Welcome" or "Family"
Family tree candle holders with name plates
Hanging lantern sconces
Wall holders with animals or butterflies
Wall mount candle sconces can be made with iron, wood, or glass, and many designs come in different sizes for even more versatility and options when choosing just the right candle holders for your home décor.
Using Wall Candle Sconces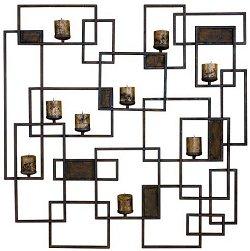 With so many choices available, it is easy to find candle sconces for different uses. Popular options include:
Using small candle holders to frame a coordinating piece of artwork
Using a large candle holder with multiple candles as an independent piece of art
Adding holders near a door for a welcoming atmosphere
Adding a single holder in a hallway or stairway for gentle light in lieu of a nightlight
Using themed sconces temporarily as part of holiday décor
Where to Buy Wall Mount Candles
Most major retailers carry a small selection of wall mount candle holders as part of their home décor and home furnishings line. Specialty home décor retailers, antique dealers, and collectible boutiques may also have different and more unique designs available, or you can purchase a wide range of designs from online retailers such as:
Wall candle sconces cost from $10 to $100 or higher depending on the design, materials, and size of the holder. In general, larger, more elaborate pieces that accommodate multiple candles are the most expensive. You can replicate the look of an expensive piece by choosing several smaller, more affordable candle holders and mounting them around a favorite photo, painting, or just in a symmetrical cluster on a suitable wall.
Safety Tips
As with any candles, it is important to use wall mount candle sconces safely to minimize any risk of fire or injury.
Always use the proper hardware (generally provided) when mounting the sconce to the wall.
Mount heavier, larger sconces on wall studs for security and stability.
Be sure the candle holder is level when mounted to avoid uneven candle burning and drips.
Do not mount candle holders beneath overhangs or near flammable materials such as curtains.
Avoid mounting the sconces too high where lighting and extinguishing them could be difficult.
Use only the appropriately sized candles in each sconce to avoid too much weight.
Never leave a burning candle unattended.
---
Wall mount candle holders and decorative sconces can be beautiful and easy additions to any home décor. With a tremendous range of styles available to suit any budget, you're sure to find just the right sconce to be part of your interior decorating.