5 Cleanest Burning Candles You Can Buy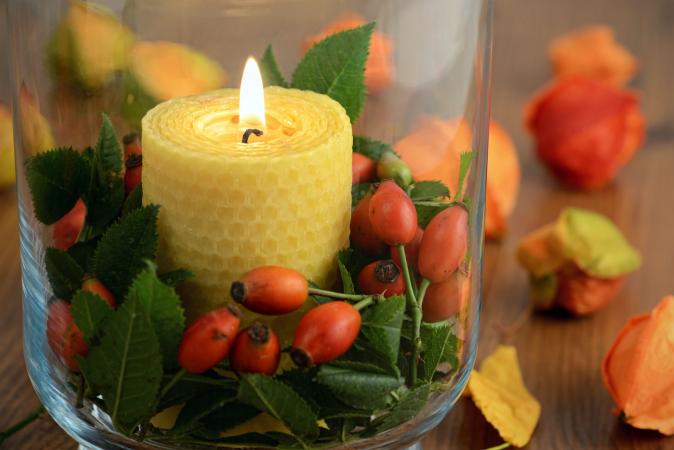 Burning candles can introduce various toxins into your home. If you want to light a clean burning candle, select one of the best following some basic guidelines. Look for a candle that will affect your air quality the least. Soy candles, beeswax candles, and vegetable-wax based candles that are 100 percent (not blended with paraffin) are your best options.
Lite + Cycle
Mind Body Green recommends Lite + Cycle candles for numerous reasons, including the fact they are 100 percent non-GMO soy wax. They are also a great option if you want a scented candle. Look for fragrances like bergamot and lavender made from 100 percent essential oils. Candles will cost just over $60 each.
Honey Candles
Honey Candles are Green America Approved. They use 100 percent pure beeswax, made in British Columbia, Canada. The company sells a variety of candles that range from ornamental to taper to traditional pillars and votives. Candles are unscented, other than the natural honey scent they carry. Pricing varies depending on the candle you select; costs start at around $2 for tealight candles and go upwards of $60 or more for larger pillars and ornamentals.
Lola's Apothecary Candles
The Independent recommends Lola's Apothecary Candles because of their vegetable-based wax blend that has a "superior throw" of scent compared to candles made from soy alone. They are made with natural ingredients. Find the votives for just over $50 at Fragrance Direct in the U.S.
Emz Blendz
Care2 recommends candles from Emz Blendz because they are made from 100 percent soy and vegetable-based wax formulas. The candles also have cotton wicks. Find them in tin and pillar candles with scents like cranberry spice and gardenia. Prices start around $15 and go up to about $25.
Cellar Door Candles
Organic Authority includes Cellar Door Candles on its list of non-toxic scented candles that smell great. They are made from coconut wax and beeswax and scented with natural and essential oils. The candles cost about $18 to $40 and come in scents like lemon verbena & ginger and boysenberry parfait.
Guidelines for Selecting a Clean Candle
The exact candle you buy isn't as important as making sure the candle was made so it minimizes your health risks. You'll want to seek out candles made from waxes and ingredients with the least amount of potential pollutants and fewest irritants.
What to Look For
Some candles have cleaner burning properties than others. Green America, American Chemical Society, and Mother Earth Living (MEL) recommend candles that:
Are made from 100 percent beeswax, vegetable-based waxes, or soy
Feature wicks made from cotton
Have 100 percent essential oils for fragrance
What to Avoid
South Carolina State University's 2009 study on candle wax showed that paraffin candle wax produced toxic chemicals and pollutants, so vegetable-based wax candles are best. The Environmental Protection Agency's report in 2001 says that lead wicks should be avoid; while lead wicks have been banned, they may still appear in cheap candles, so check yours before purchasing. Additionally, soot creates an issue when burning candles, especially "super scented" ones, according to the EPA.
Soot-Free Candle Claims
While candle makers may claim their candles are soot-free, there is ongoing controversy over whether any candle can truly be considered "soot-free." The National Candle Association offers tips, like keeping wicks trimmed, in order to minimize soot. The U.S. Candle Company, however, did decide to put the soot claim to test and found that soy candles do produce less soot when burned under the same conditions. MEL notes that beeswax candles also seem to produce less soot than their paraffin counterparts.
Stay Healthy Burning Candles
If you're concerned about potential health risks, you will want to get the cleanest burning candles you can buy. Look for a recommended type and follow basic guidelines to stay healthy while enjoying the soft scent and glow of a candle at home.